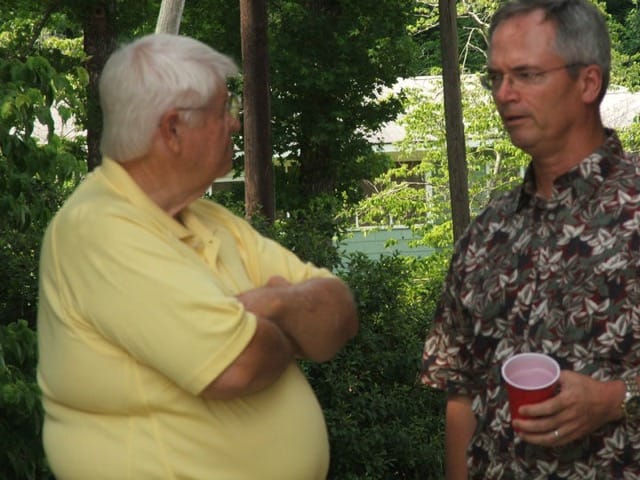 Within 9 days, they were both gone.
My Uncle Junior had struggled with his health for a while, but his passing was a surprise. He passed away on March 14, 2019.
On March 23, 2019, my stepfather died. He got the flu on February 1st, was put on life support February 7th, and was on life support until he passed. It was the kind of death we all dread. He suffered greatly until the end.
These 2 men were patriarchal figures in my life. My uncle lived next door and was like a second father growing up. My stepfather was my other dad since my early 20's. That is decades worth of love.
"He is…I mean he WAS a great man."
Each time I make this mistake, the knife twists a bit deeper. It's a reminder of my new truth.
There is no magic solution to cure the pain in changing "present" speech to "past" speech.
I noticed family members suffering the same.
Each time "is" was changed to "was," I saw brows furrow and eyes tear.
Then, the foreboding "we will be". Future tense is gone, too. There is no more "we will be," or, "we are going to…".
It is a road block in time. Everything stops, and you find yourself smashing against the sucker several times a day. You stand back in shock. It is invisible until "was" and "were" become second nature.
No one wants to speak this way. These 2 men, who were always there, will no longer be on the list for family gatherings. I cannot wish things were different. It will not change the truth, and it makes me angry and broken at the same time.
The price of love is the sorrow of learning to speak in past tense. It is the void that takes years to fill with memories. It is the piece of you that will never be replaced, and it is the heartache of watching the survivors struggle against their new reality.
I am still learning this new language, and I hate it. I hate my loved ones must learn it. I hate it so much I want to scream out, "NO! I WILL NOT DO THIS!"
Then I remind myself that the cost of loving these 2 men was worth it. They were spectacular people. I respected them. I loved them. Their lives added to this world, and I was so lucky they were part of mine.
Yes. I will learn. Through tears, I will learn.
They would want us to live in the present and learn to speak "past tense" with poise. They would encourage us to live and laugh and love. This is how to honor their memory. Though I cannot promise poise will always triumph, I will do my best. So far, my best isn't honoring them much. But, that's ok, too. Some lessons are harder than others and learning to speak in past tense is the hardest of them all.
May they rest in peace.