First of all, I want to give a big internet hug to all of those who supported the "bad sheep" Kickstarter campaign! We made it to the goal! Hooray!
For those who are cheering the book on to success, I give you a big shout out of thanks!!
We are now in the post-Kickstarter stage. Preparations are being made daily for the release of the book. This post is for all of you following the journey from idea to actualization.
HOW "BAD SHEEP" WAS BORN
I awoke with the story. It came to me in a dream. I outlined the story to my groggy husband who was pouring his morning coffee, and he said, "Let's do it!"
This same morning, I contacted one of my favorite cartoonist's, David Hayward. After working out the details, he jumped on board.
While awaiting the sketches from David, I spent hours researching children's books and publishing. I spent hours in my mind going over each detail of the story. I did not give up on finishing, and I did not give in to doubt. *Side note: for those of you starting a children's book, I suggest doing tons of research on all things children's books. The time I spent researching the different aspects of self-publishing paid off. However, you will make mistakes. I made a bunch of them. As mistakes go, I learned, and the next book will be smoother sailing.
A couple of months later, I got the email from David. It sent me flying! I saw him: my sweet little bad sheep! I was over the moon!!!
For the most part, the initial sketches are the same as in the book. This is a remarkable accomplishment for 2 artists, whom have never met in person and who live hundreds of miles apart. We were able to find a wavelength and a vision with very few tweaks. Here are some absolutely awful photographs of me showing David the expressions I wanted for the sheep.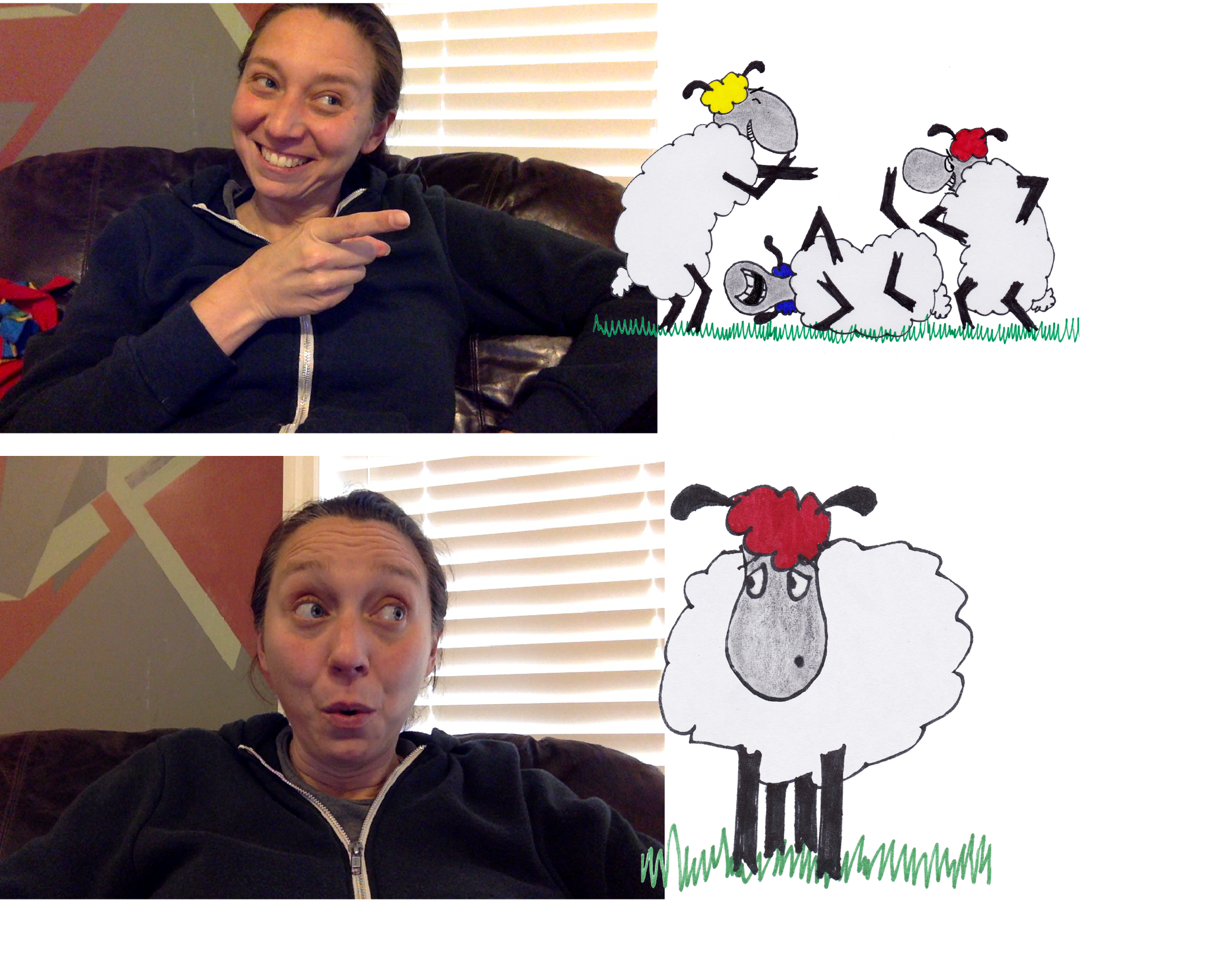 Then, the process took the turn towards graphic design. With the characters in hand, I spent a couple of months playing with the graphic design. Finally, after consulting my son for direction, the book began to have a fluid appearance. The color schemes worked, the font worked, and the overall design worked.
LEARNING
The fun part of art is conception to actualization. The not so fun part is what to do with the creation once it's in your hands.
Though I had read about it, I am an artist…not a marketer. Want me to paint you a picture, write you a song, blog, story, novel, or make you a necklace? I'm your girl. It's covered.
I looked in my hands at the pages of the book, and I asked the question, "What now?".
So…I researched and found out. Even so, the "ah ha" moment didn't come easily. I decided to just go with what I knew, and I did.
I needed the funds to get it published.
After asking lots of questions (the best way to learn), I discovered Kickstarter to be the safest bet for all involved: me and the people pledging to the book.
It took me a couple of months to research, layout, design,plan and organize the photo shoot, by Julie McCullough(hair and makeup by Janae Burnside, and assisted by Rachel Harchanko,) write the script for the video practice this script, and create the Kickstarter campaign.
Then, the hardest part for me and most artists, came promotions. Facebook, Instagram, Facebook, Instagram, Facebook, Instagram…………
The pledges came rolling in, and by the end of the 30 days, the Kickstarter was FUNDED!!
WHAT is NEXT?
Now, we are in the planning stages of the launch. Kickstarter has a 2 week hold on the funds. This has put us on an early 2018 launch date. I was hoping for Christmas. Oh well. Life goes on.
Until then, I am marketing my writing through blogs, engagement on social media, website updates, and email list building. The more engagement online, the better the book will sell. It is a simple process, but, it takes a ton of work.
THE ARTIST'S DISCOMFORT
There are days I want to run and hide from the world. There are days I wish I could be invisible online.
Here's the thing: I want to create stuff and make money doing it. To do this, I cannot be invisible. Yes. There are days I can be quiet online and post an "oldie but a goodie," but, for the most part, I have to kick my anxiety aside and show up.
Showing up also means book signings, book readings, lectures, stories, and new books. For me, this is fun! I love meeting folks. I love to make kids laugh (the best sound in the world). I love singing silly songs and smiling and listening. I also, like my grandfather, love the stage. I haven't been on stage for a while, unless you count my dancing and singing in the car, so, it will be welcomed with open arms.
However, there is a level of discomfort in making your art, and yourself, known. Balancing on the tight rope of confidence and comfort has proven to be tricky, yet, it is not impossible.
FINAL THOUGHT
This last year has been a real world education in how to be good at what you do, and how to be loud about it. As I have said…the first part is easy. The second part is not. I am still learning.
The good news is I know more today than I did yesterday.
"Bad Sheep" has been a lesson in endurance, myself, accepting critical advice, measuring excitement in portions to last for days, taking steps daily, and giving up the expectations of others. The biggest lesson I have learned this year is this:
Not everyone will love my work, and it is ok.
I have a several mottos. This is one I wrote for myself:
Put the work out there for the world to see.
Whether they like it or not
IS NOT
Up to me.
Enough people will like what I do to make my work successful. I am certain of it.
*Side note: if you are an artist, whether with the word, paintbrush, pencil, musical instrument, or otherwise, read the motto again…and again…and again. Your work has value not in the acceptance of it but in the essence of it. If one person's life is touched by what you do, you have done well. Remember, to touch people's hearts with your art, they must first be able to see (or hear) it. If you are afraid, release it anyway.
There will be more "Bad Sheep" news starting in January, 2018! Also, stay tuned for more projects to be released in 2018! I will be adding photos and blogs to keep everyone up to date!
Until then…
Wow. What an amazing ride.
To read more about Autumn and her work, click HERE!
To read more about "Bad Sheep", click HERE!
To sign up for exclusive deals and hot off the press news, click HERE!
Thanks for stopping by and taking a read!