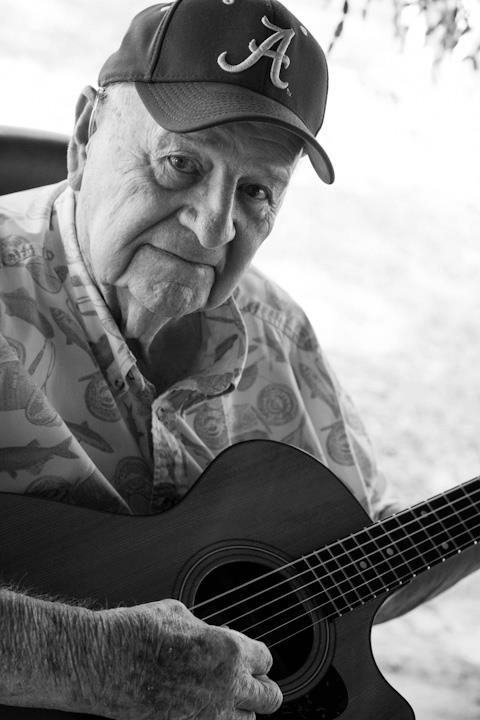 My paternal grandfather was one of the most well-rounded people I've known. He was charming, witty, well read, smart, talented, and, my favorite, funny. He was not stingy with his smile. It was one of those smiles encompassing the entirety of his face. It illuminated a room.
He loved a good joke or story. Even if his story was not particularly funny to anyone else, everyone would laugh at him laughing at his own joke. He was the cutest, sweetest person. I adored him…and still do.
I could write a book about the exceptional person he was, but, today, I am focusing on one of his stories that always had me in stitches. I hope I do it justice.
CHECK THE BACKSEAT
My PawPaw was a talented musician. Though he could play several instruments, he was best known as a bass player. Over his lifetime, he played bass in many gospel groups. This particular story revolves around a gig he played with a gospel quartet at a country church.
If you are not from "around these parts," Alabama country churches are a breed of their own. Most times, there are less than 20 attendees per service…except when the gospel group came to town.
The pews would be filled, and folks would line the walls. Everyone from the county would show up to be entertained. The church would be well cleaned, there was enough food to feed a small army, and everyone was dressed in their Sunday best. It was a party!
It was at one of these events when my grandfather was put in a precarious situation.
The quartet had sung their first set and took a break. My grandfather, as he would often do, stayed on stage with his bass. He knew it would only be a 10 minute break. Plus, the man LOVED the stage. To this day, I believe his true home was on a stage.
During this break, the pastor asked the congregants for a "love offering." This offering was taken up to pay the gospel group. To fill up the silence, the pastor invited one of the locals to sing a "special." Paw Paw sat on stage and watched as a middle-aged, stocky built, finely dressed lady move towards the stage in a self-assured and proper sashay.
Paw Paw wondered why those sitting in the pews and standing around were snickering. He had never seen a pastor invite the lesser of the local singers up for the break. She had to, at least, be a half-way decent singer.
She made her way up the short set of stairs and smiled at my grandfather. He smiled back. She turned to move towards the podium. It was then my grandfather knew why all of those in the church were snickering.
Her dress was caught, by the bottom hem, in the top of her girdle. A majority of her back end was unveiled.
At this point, everyone in the church knew my grandfather, sitting behind this singer, had a bird's eye view of the whole situation. They must have been wondering how he would handle his new vantage point.
A song, on average, lasts about 3 to 3 and a half minutes, and, for this 3 to 3 and a half minutes, my grandfather sat behind this lady looking at her behind.
How difficult it must have been for him to retain composure!
My Paw Paw said it took all the strength he could conjure to not reach up and pull the lady's dress out of the top of her girdle. I wish he had. It would have made the story so much better.
Instead, Paw Paw sat there with his eyes trying desperately to avoid contact with the backside of this stranger. He had no help from the audience. He had to avoid them as well. They were too busy trying to keep a measure of self-control. They must have had to work tirelessly not to look up at my Paw Paw. I bet the pews were shaking with folks painfully swallowing laugher.
This had to be the only time in my grandfather's life when the stage was exactly where he did not want to be. He said he picked at his fingernails, stared at his bass guitar, looked at his shoes, and, occasionally, glanced up to see if his reality was as he remembered.
"Yep. The curtain was still pulled back. Time to pick my fingernails, stare at the guitar, look at my shoes, and keep it together."
Once the song was over, the lady pridefully made her way back to her seat. For the rest of the gig, my grandfather had to look out at the audience and see the eyes of this lady who still had no clue she had essentially mooned my grandfather for, at least, 3 minutes of his life…in church.
Bless her heart…and his.
My grandfather, the humorist he was, took this story and created the following joke:
The other day, a man asked me why I had 2 black eyes. I told him I got them in church.
He said, "You got them in church? What did you do?"
I told him that as I was sitting in the church pew, awaiting the service to start, a lady walked past me with the bottom hem of her skirt securely folded inside the top of her girdle, exposing her rear end. So, being the gentleman I am, I reached up and pulled it out. She turned around and slapped me.
The man laughed and said, "Well, that explains the first black eye, but how did you get the second?"
Well… I figured she wanted it that way, so, being the gentleman I am, I reached up and put it back.
My Paw Paw was a comedian.
From the very first time he told the real story, and to this day, if I am in a dress, I check the backseat. I would recommend you do the same.
If not, just roll with it. Some day, somewhere, someone's granddaughter might well turn out to be a writer and provide a chuckle to the world.