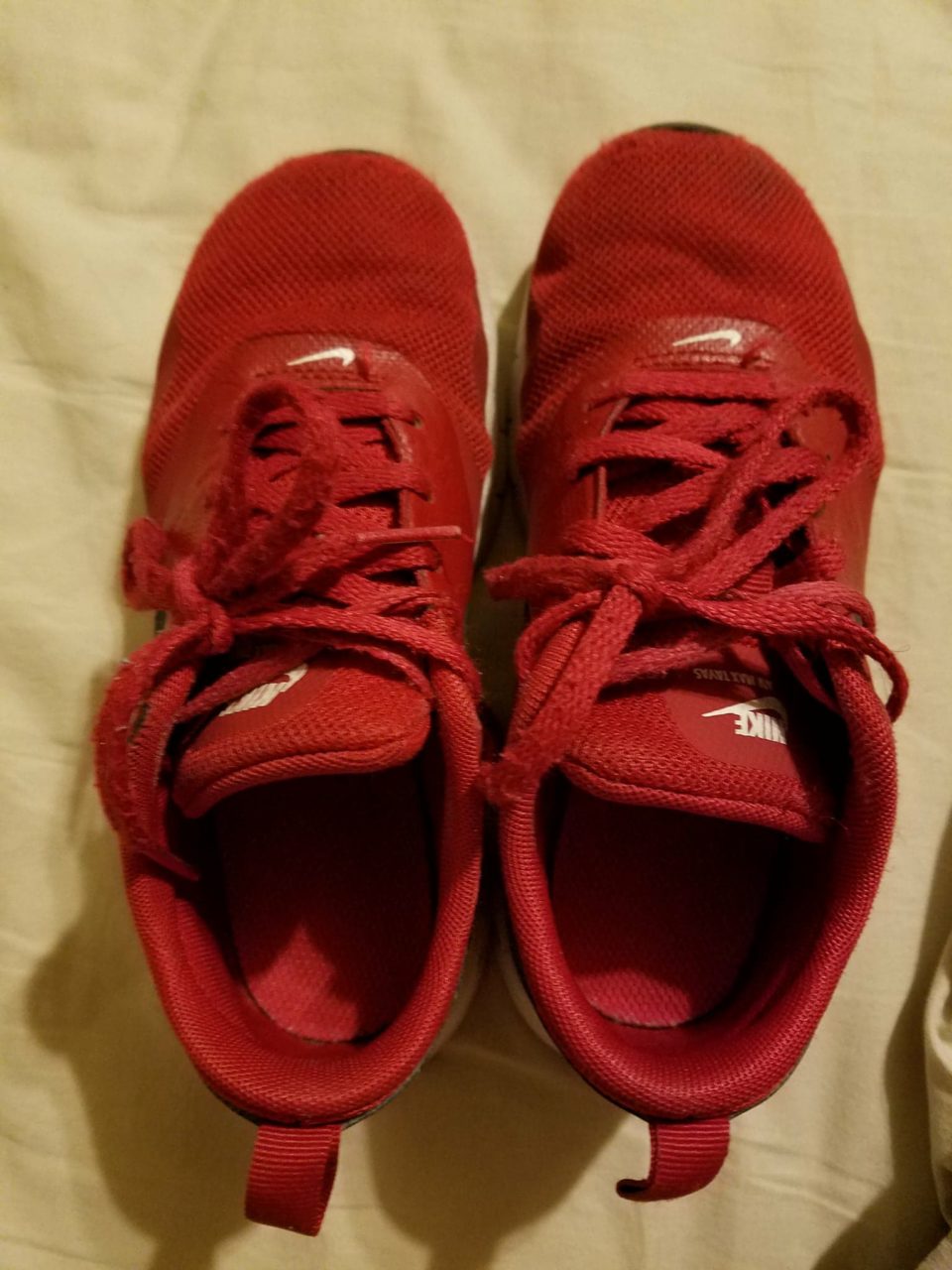 My son needed new shoes. He didn't want new shoes. He liked his old ones, but they were too small.
Miracle League had a bowling day, and I decided we would bowl for an hour and then shoe shop. Children with autism need to know what is happening and what comes next. For 2 days, I told him the plans…over and over… He was well advised.
Bowling was awesome! We made new friends, and my son even made a strike!
The game ended, and I, again, told my son the plans. No problem. He was fine. We headed to the mall.
We always go to the same shoe store. He is accustomed to the environment. It is quiet and well suited to children who overstimulate easily.
I knew I was in for trouble when he resisted taking off his old shoes to be measured.
The measurements spoke what I knew to be true. I showed him all of his options, and he said, "NO!" and ran to pick up his old shoes.
"DIS! DIS!" which means "THIS THIS!" He held up the old shoes. He pointed to the dirt on the bottoms. He liked that dirt. It told the story of the places he had been.
While taking off my son's shoes, I had to get on my knees. It was a perfect time to pray. God was busy elsewhere. My boy wanted nothing to do with new shoes.
The clerk and I tried every trick in the book. Even a couple of customers chimed in.
Nope.
"DIS! DIS!"
"This child will NOT out stubborn me!!" My thoughts were pure stupidity. We were going to another store.
"OOO! MAMA! It so HIGH!" he said, peering over the rail to the floor below. Between our current position and the other shoe store was a video game of thrilling explosive fire geysers, loud trombones, and circus rides. At least, this is what I imagine it must have been for him.
By the time we weaved our drunken over-stimulated selves into the shoe store, it was all out spazorama. He ran the isles. I chased him. Brought him back to me. I tried to ask the shoe clerk where the little boy section was, and she ignored me. Maybe it was my own crazed look that shook her from her desire to neglect, but, she didn't the second time.
The shoes were in rows up over my head.
"NO! NO! NO! DIS! DIS!"
God…seriously? I could use some help here.
He tore through that store like a tornado on cocaine. As we were walking out, the workers gave me a look. Oh, no you don't. I saw what those grown women did to the sale isle. This kid knocked over a couple of boxes. Get over yourself.
Some folks looked at me in judgement, and others in sympathy. I'll have none of either. Walk a mile in my shoes, and then we will talk. And for you others, I'll have you know this is the best kid in the world. I don't need your sympathy. He is having a moment. I made a mistake. Life happens. He is still fantastic.
I thought better of visiting another store.
He won the stubborn contest. I lost at parenting.
Autism, as I try to explain to others, is the world turned up to 11. The "go to" reaction for my kid is all out happy/crazed.
I know this.
He felt remorseful. Well, he felt sad he wouldn't get a "surprise." Even though I screwed up, I will not reward bad behavior. No need in adding more poor parenting to the stew.
It is difficult raising a child. In this day and age, parent shaming is all the rage. Listen carefully, to these words:
MIND YOUR OWN BUSINESS.
People screw up. Parents are people. We do our best. It's all we can do.
My son still has his old shoes. I have post-tramatic stress. His teacher will be told of the dilemma. Between all of the adults in his life, maybe we can talk this kid into new shoes.
If not, I'll be cutting a hole for his toes until we can.